KUWAIT CITY(IAMINKUWAIT): If you're big on traveling, then you've undoubtedly come across a few tourist traps in your time. Whether you've been sucked into the Mystery Spot, or visited the World's Largest Cedar Bucket (totally worth it by the way), you know what it's like to spend a few bucks on something that's most likely going to be underwhelming. At best, a tourist trap is going to either maintain small town charm, or have a weirdness factor that's off the charts (once again: World's Largest Cedar Bucket). The one thing you don't want your tourist trap to be is completely boring. To help you avoid such mistakes, we've put together this list of the world's worst tourist traps.
All across the world, and from sea to shining sea, there are destinations that are built to take your money. Whether it's a "forbidden temple," or a town built around the concept of a government conspiracy, the places on this list are a total drag. Unsurprisingly, there are a lot of VERY TALL buildings on this list of terrible travel destinations. Why do people keep visiting these places? It's almost like they've never looked up. We hope this list of the worst tourist traps does you some good, and helps you plan your next adventure. And if you travel to one of these drab destinations, don't say we didn't warn you.
Plymouth Rock
Plymouth Rock is the traditional site of disembarkation of William Bradford and the Mayflower Pilgrims who founded Plymouth Colony in 1620. It is an important symbol in American history. There are no contemporaneous references to the Pilgrims' landing on a rock at Plymouth, and it is not referred to in Edward Winslow's Mourt's Relation or in Bradford's journal Of Plymouth Plantation. The first written reference to the rock's existence was recorded in 1715, when it is described in the town boundary records as "a great rock." The first written reference to Pilgrims landing on a rock is found 121 years after they landed.
Hollywood Walk of Fame
The Hollywood Walk of Fame comprises more than 2,500 five-pointed terrazzo and brass stars embedded in the sidewalks along 15 blocks of Hollywood Boulevard and three blocks of Vine Street in Hollywood, California. The stars are permanent public monuments to achievement in the entertainment industry, bearing the names of a mix of actors, musicians, directors, producers, musical and theatrical groups, fictional characters, and others. The Walk of Fame is administered by the Hollywood Chamber of Commerce and maintained by the self-financing Hollywood Historic Trust. It is a popular tourist destination, with a reported 10 million visitors in 2003.
Roswell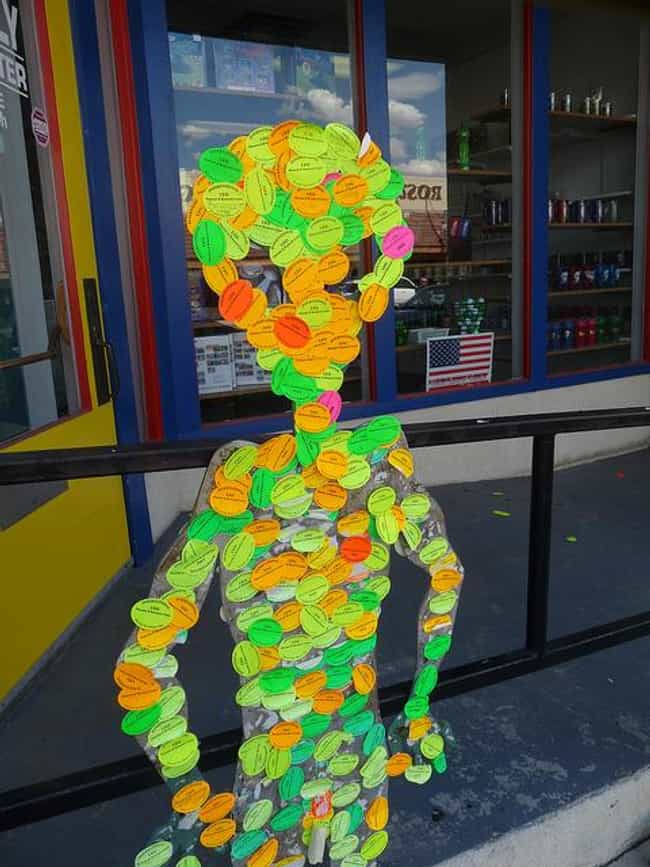 Roswell is a city in, and the county seat of, Chaves County in the southeastern quarter of the state of New Mexico, United States. As of the 2010 census it had a population of 48,411, making it the 5th largest city in New Mexico. It is a center for irrigation farming, dairying, ranching, manufacturing, distribution, and petroleum production. It is also the home of New Mexico Military Institute, founded in 1891. Bitter Lake National Wildlife Refuge is located a few miles northeast of the city on the Pecos River. Bottomless Lakes State Park is located 12 miles east of Roswell on US 380. Roswell is most popularly known for having its name attached to what is now called the 1947 Roswell
Blarney Stone
There are so many great places in Ireland, it's mind blowing that anyone would want to pay to have some old curmudgeon lower them, belly up, to kiss the bottom of a castle. If you do visit the stone, remember that you're kissing everyone that castle has ever kissed.
Cancún
Cancún is a city in southeastern Mexico, located on the northeast coast of the Yucatán Peninsula in the Mexican state of Quintana Roo. It is an important renowned tourist destination in Mexico, as well as being the seat of the municipality of Benito Juárez. The city is located on the Caribbean Sea, and is one of the easternmost points in Mexico. Cancún is located just north of Mexico's Caribbean coast resort band known as the Riviera Maya. In older English-language documents, the city's name is sometimes spelled "Cancoon".
Courtesy: arabtimesonline.com